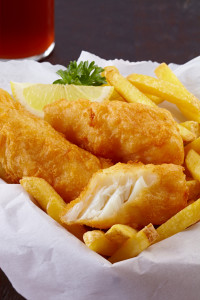 The increased demand for take-out has heightened the need for better batters. Suppose the brand you're using won't hold up to the extended time needed for delivery. In that case, it's time to try Upper Crust Enterprises Authentic Tempura Batter Mix.
Our Authentic Tempura Batter stays crispy much longer than other food service brands. The average competitor brand becomes soft and oily in 10 minutes or less. Upper Crust Enterprises Tempura lasts crispy, without an oily taste, for over 60 minutes. It's a total game-changer! 
The Better (Beer) Batter Mix!
Tempura Batter mix is excellent for any fried food item, not just Japanese or Asian cuisine. In addition to keeping foods crispy for an extended amount of time, it is also versatile. We create our Authentic Tempura batter mix without any additives, artificial flavors, or dairy making it easy to control the taste of the fried coating. Mix with beer to make a beer batter or with hot sauce and water for a spicy batter. There are so many options – even deserts, use a sweet juice as your liquid. 
To add additional texture, sprinkle in some of our Authentic Panko. 
At Upper Crust Enterprises, we pride ourselves in creating an Authentic Tempura free of preservatives, MSG, thickeners, and eggs, making our batter the better choice for any menu item requiring a batter or pre-coating – including vegan and vegetarian dishes. Our Tempura is Vegan, Kosher, and Halal certified.
Can Your Batter Boast These Characteristics?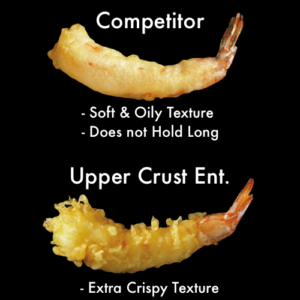 Texture: Crispy and lacy texture compared to standard soft, smooth, and oily brands.
Crispy: Stays crispy for 60 minutes or more. Excellent for take-out. Standard brands become soft/oily after less than 10 minutes.
No Oily Flavor: No spices or artificial flavoring, plus it does not absorb as much oil – always delivers a light crispy texture that will never overpower menu items.
Versatility: Used as a pre-batter to replace flour and egg wash. Upper Crust Enterprises batter will blend with any liquid, beer, club soda, wine, or juice for a unique batter.
Upper Crust Enterprises Authentic Tempura is made exclusively for restaurants and professional chefs, with a short ingredient list:
Unique Blend of two Flours

Starch

Baking Powder

Salt

Plus, a secret ingredient directly from Japan (which will remain a secret!)
Our Authentic Tempura Batter will deliver a lacier and crispier texture than your current batter. We guarantee it!
Try Upper Crust Enterprises Tempura Batter Mix – Free!
We invite you (Professional Chefs, Restaurants, and food distributors only) to try Upper Crust Enterprises Tempura Batter Mix – FREE. Try our Authentic Tempura and taste the difference firsthand.
Upper Crust Enterprises Authentic tempura is available exclusively to Professional Chefs, Restaurants (large or small), and Food Distributors.
All of our Tempura products are certified Vegan, Kosher, and Halal.