When does a trend stop being a trend and becomes mainstream? When a company the size of McDonald's changes its menu to meet the demands of consumers, that's when! It's safe to say the demand for GMO Free, Clean Ingredients, free of preservatives and artificial colors, even in fast food is changing the food industry as a whole. A game changer for many menu applications can be the choice to choose all natural panko.
McDonald's introduced a change in 2015, replacing liquid margarine with real butter on their famous Egg McMuffin, it was a small changed that sent a message that real food matters. And they didn't stop there; the fast food giant recently announced it has removed artificial colors, flavors and preservatives from their top selling burgers.
When food giants like McDonald's implement changes that impact the food industry, it begs the question, what steps has your restaurant made to meet the demands of its consumers for food options with clean ingredients?
Choose All Natural Panko – A Tiny Crumb that Delivers a Light & Delicate Crispy Texture
McDonald's sees success in serving menu items with cleaner ingredients.  Have you thought about your breading and Panko? Not all Panko is Non-GMO or have clean ingredients, nor is all Panko authentic.  Even a small change can have a significant impact, especially if you switch to an Authentic Japanese All-Natural Panko crumb.
It's a small, yet impactful, addition to any professional kitchen and can help meet the growing demand for cleaner food options.  It's as easy as replacing common breadcrumbs and standard Panko with a GMO Free, All-Natural Authentic Panko made by Upper Crust Enterprises. A perfect solution to help meet customer demands for clean ingredients. An authentic Panko is versatile and can be used in a wide  variety of applications, as a mix-in for meatballs, top coating for pastas and au gratins and even desserts and of course, as a light and crispy coating for fried foods.
Not all Panko is Created Equal
How do you know if you are using an authentic Panko?  If your Panko has a hard dense texture you should evaluate your Panko. An authentic Panko will have the following characteristics:
Large sliver shape crumb (flaky look) – many Panko brands have small round crumbs.
Light airy delicate texture – many Panko brands have a hard and dense crumb that hurts the roof of your mouth.
Authentic Panko will always be light and airy with a sliver or flaky looking crumb.
The key to making an Authentic Panko starts with using a high protein quality flour, yeast, cane sugar, salt and sometimes a palm oil shortening, then taking the time to process the dough to create the perfect crustless loaf of bread.  At Upper Crust Enterprises we follow traditional Japanese methods and process the dough to create millions of small air pockets, so when cooked and ground each Panko crumb has that distinctive light delicate crispy texture, every time.
Because an authentic Panko is flavor neutral, it eliminates the "bready" flavor, making it more versatile than standard breadcrumbs and standard panko.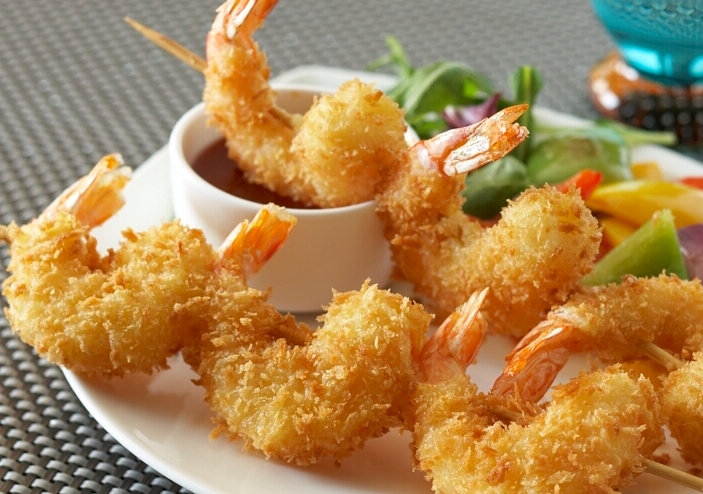 Our simple and clean ingredients set us apart from our competitors. Using only the traditional ingredients, no additives, dough conditioner or preservatives. Our Authentic Panko is Non-GMO, and also available All Natural made with Organic cane sugar and sea salt.  All of our Panko products are certified GMO Free, Vegan, Kosher and Halal.
Experience A Truly Authentic Japanese Panko
We personally invite you (Professional Chefs, Restaurants and food distributors only) to try Upper Crust Enterprises Authentic Japanese Panko – FREE.
Experience firsthand the difference an Authentic Japanese Panko will have on your menu items.
We guarantee our Authentic Panko will:
Taste lighter and crispy.
Have a delicate crispy texture that stays crispy longer.
Provides a better yield than standard Panko.
Deliver a better plate presentation making coating items look bigger but not taste bready.
Upper Crust Enterprises Authentic Japanese Panko breadcrumbs are available exclusively to Professional Chefs, Restaurants (large or small) and Food Distributors.
Upper Crust Enterprises
Upper Crust Enterprises has been producing Authentic Panko for Japanese restaurants and many other types restaurants across the globe for more than three decades. Strictly keeping to the traditional Japanese methods and taking the time to do it right, each and every time is what makes our Panko a pure authentic Panko.
Please take a minute and view our video Panko Bread Crumbs Secrets Revealed and watch how our traditional Japanese Panko is made.