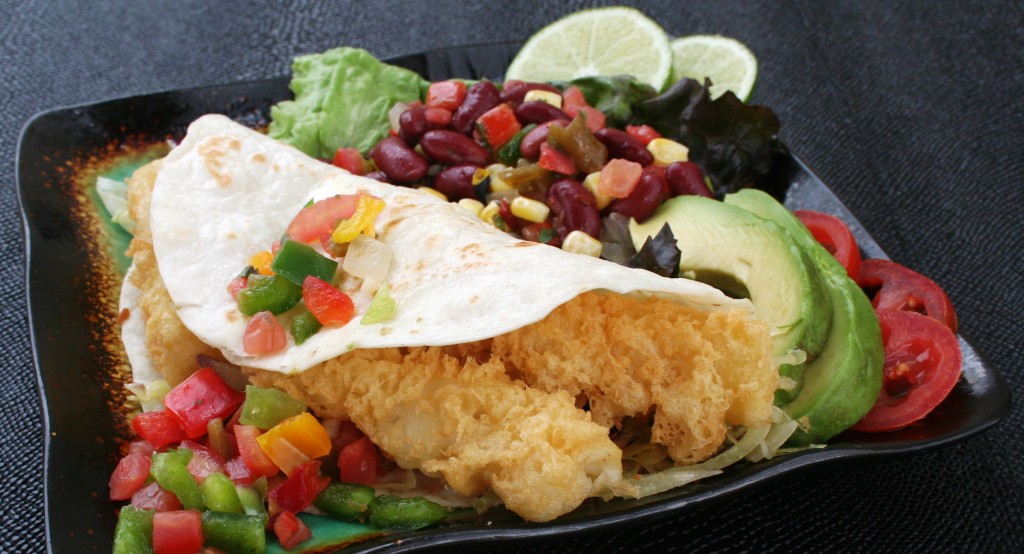 Cinco de Mayo is just around the corner and if you haven't had time to think about creating a new menu item for your restaurant don't worry, we've got it!
Consider changing out the same old Fish Taco recipe and create something unique by using an Authentic Extra Crispy Tempura batter mix as your base batter!
What Makes Using an Authentic Tempura Batter for Fish Tacos Better?
It's very simple. Upper Crust Enterprises Extra Crispy Tempura Batter mix is free of preservatives, MSG, thickeners, eggs and spices.  Just add water to create a super crispy tempura coating and best yet, since we never add any spices or flavorings to our mix, you can use any liquid. Be as creative as you like – use beer,  wine, hot sauce, or even fruit juice to make a flavor all your own. Want something extra special? Try blending beer with lemon juice and a touch of hot sauce.  No matter what you add, our tempura batter will be Extra Crispy – each and every time. Our tempura batter mix creates a perfectly light and lacy coating that stays crispy longer than many of other standard brands.
Best of all, because our tempura mix is vegan, it can be used to coat a wide range of vegetables to make vegan or vegetarian tacos. The possibilities are endless.
Visit our Tempura Fish Taco recipe. for ideas and then experiment to find the perfect recipe for your restaurant!
Free Tempura Sample Kit
If you've never tried Upper Crust Enterprises Tempura or our Authentic Japanese Panko products we would like to offer you a sample kit – free and without any high-pressure sales pitches. We are confident you will see and taste the difference!
This offer is available only to professional chefs, restaurants and food distributors. Get your free tempura batter sample kit, as well as many different recipe ideas.
Take the Tempura challenge and compare. We know you'll see and taste the difference.
About Upper Crust Enterprises
Upper Crust Enterprises has created an authentic Tempura Batter mix that rivals the best Japanese tempura masters back of the house blend.
Our Tempura Batter Mix and Japanese Panko Bread Crumbs are sold throughout the entire United States, Canada, Mexico, Barbados, Belize, Italy, Israel, Australia, Panama, Ecuador, Russia, United Arab Emirates, Guam and Saipan. We supply various restaurant chains in the U.S., Mexico and Canada. All of our products are Kosher Certified, have Zero Trans Fat and backed by a 100% satisfaction guarantee. If you are not happy with the performance of our products we will refund your purchase price.