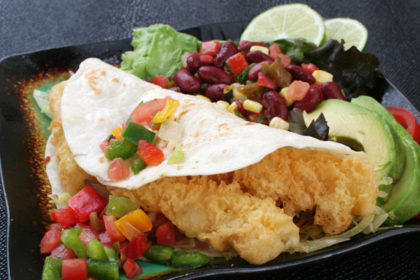 Tempura Fish Taco: Recipe
De-glaze fish (Cod, Pollock or Halibut) by rinsing in cold water and cut in strips.
Dust fish in DRY Upper Crust Tempura Batter mix (code 07230) seasoned with Lemon Pepper, and Red Pepper powder shaking off excess.
Dip in prepared Tempura batter made with beer instead of water and seasoned with lemon pepper and Red pepper powder.
Then roll in Upper Crust Enterprises Authentic Japanese Panko bread crumbs (code 01020).
Deep fry at 350-375°F until golden brown. Serve in a corn tortilla with shredded cabbage, shredded cheese, a spicy cream sauce and a wedge of lemon.
For more recipe ideas and product application videos subscribe to our YouTube Channel or follow us on Instagram.