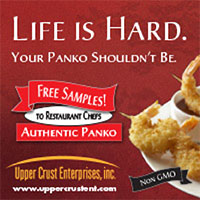 Understanding the difference between Crunchy and Crispy texture might seem a little silly to some, after all, aren't they the same? Your restaurant customers know the difference and a quality expectation for both.  A scientific article in the International Journal of Food Properties, titled "Critical Evaluation of Crispy and Crunchy Textures: A Review", outlines the subtle, yet distinctive differences between crispy and crunchy texture.
Crispy and crunchy textures defined
Crunchy and Crispy, two different textures frequently confused and often considered to be the same. There are subtle, yet very distinctive differences between crispy and crunchy, not only in their texture, but also in how the brain perceives these differences. Understanding these subtle variances can be the deciding vote over a food's acceptability.
The journal defines a crispy food as: "A dry rigid food which, when bitten with the incisors, fractures quickly, easily, and totally while emitting a relatively loud, high-pitched sound."
While a crunchy food is: "a dense-textured food which, when chewed with the molars, undergoes a series of fractures while emitting relatively loud, low-pitched sounds."
Understanding the subtle differences between the two textures will help you determine which coatings to use with fried foods to achieve the perfect balance of crispy or crunchy textures.
Creating fried foods with perfect in-balance texture
Using this information as it relates to fried foods lets us better understanding if the texture is too crunchy it gives the perception of being over-breaded or over-cooked. This is most noticeable with soft textured proteins; cheese, fish, seafood, chicken and vegetables such as onion rings, zucchini and peppers.
When the outer coating of fried food is too hard or crunchy, it creates an out-of-balance texture with the soft interior.  Your customers may not be able to describe exactly the texture they want, but when the texture is perfectly balanced it does deliver a satisfying "WOW this is great" after the first bite.
Authentic Panko delivers the best crispy texture
Authentic Panko is a perfect solution for a crispy texture – always in-balance and on-point. The Food Lab created a list of all the popular breadings and the Pros and Cons of each – Panko scored the highest in crispy texture!
The texture of an authentic Panko is light and delicate. However, not all Panko is the same. Just like crispy and crunchy, there is a difference between Standard and Authentic Panko.  Knowing the difference can help you maximize the flavor experience of your fried foods, creating the perfect alignment of taste and texture. And best yet, deliver results that will keep your customers happy and coming back for more.
Create a Better Texture using Authentic Panko
Not all Panko is the same and it is easy to spot the differences between an Authentic Panko and standard crumb.
Authentic Panko has a delicate light texture crumb, never hard or dense. Just touching panko you can feel the difference between an authentic and standard crumb.
The main reason authentic Panko is more delicate is because it has more air pockets in each crumb. Those air pockets do two things, provide a delicate crispy texture and when fried oil goes into the pockets, it drains out when removed from the fryer, providing a less greasy oily taste.
It's these unique characteristics that allow Authentic Panko to stay crisp and hold up to hot oil better and longer, without the oily or greasy taste. Authentic Panko is also flaky and sliver shaped, not round and dense. The flaky sliver shape provides more highlights and makes the coated item look bigger but will not taste over breaded.
Many standard brands don't use quality ingredients and make the mistake of rushing the process – completely missing the main elements that make an Authentic Panko a superior product, resulting in a hard dense coating.
To learn more and see how Authentic Panko is made take a virtual plant tour Panko the Secrets Revealed – it's actually a fascinating process.
26% Better Yield with Fewer Fines than Standard Panko
The light, airy texture of Authentic Panko will provide at least a 26% better yield than standard Panko.
Learn more about how Upper Crust Enterprises Authentic Panko is made by taking a virtual plant tour Panko the Secrets Revealed– it's a fascinating process.
Taste the Difference – Authentic Japanese Panko
We personally invite Professional Chefs, Restaurants and food distributors to try Upper Crust Enterprises Authentic Japanese Panko – FREE.
Experience firsthand the difference and better food texture appeal an Authentic Japanese Panko will have on your menu items
We guarantee our Authentic Panko will:
Taste lighter and crispy.
Have a delicate crispy texture that stays crispy longer.
Provides a better yield than standard Panko.
Deliver a better plate presentation making coating items look bigger but not taste bready.
Upper Crust Enterprises Authentic Japanese Panko breadcrumbs are available exclusively to Professional Chefs, Restaurants (large or small) and Food Distributors.
All of our Authentic Panko products are GMO Free, vegetarian/vegan, Kosher and Halal Certified.