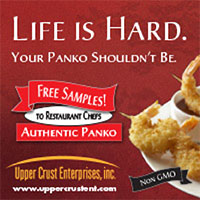 Quite possibly one of the most overlooked ingredients in the professional kitchen is also one of the most versatile. Can you guess what it is? It's Panko! A tiny little breadcrumb that packs a tasty punch. The uses are endless, from American classics like Mac-n-Cheese to Italian comfort food and yes, even desserts. For the very best results, replace your standard brand of Panko with an Authentic Japanese Panko.
Isn't all Panko Authentic?
Not all Panko is made using the traditional Japanese methods. Creating an Authentic Panko is much more than throwing together the standard ingredients and popping it into an oven. Creating a light and delicate flaky Authentic Panko takes time and can never be rushed. The key to making an Authentic Panko starts with using only the high quality flour, yeast, sugar and salt and taking the time to process the dough to create the perfect crustless loaf of bread.
Strictly adhering to the traditional Japanese methods has been the secret to our success. For more than 35 years Upper Crust Enterprises has been producing Authentic Panko for restaurants across the globe.
We follow traditional Japanese methods and process the dough to create millions of small air pockets so when cooked and ground each Panko crumb has that distinctive light delicate crispy texture, every time.
Take a virtual tour of our plant and see how we create our Authentic Panko.
Life is Hard  – Your Panko Shouldn't Be
Panko should never (ever) be hard and dense. And that's exactly what happens when lower quality ingredients are used and the cooking and grinding process are rushed. Only Authentic Japanese Panko will have the light airy delicate and flaky shape which creates the light and crispy texture, without an "overly oily" taste – a pure and perfect ingredient.
Experience A Truly Authentic Japanese Panko
We personally invite you (Professional Chefs, Restaurants and food distributors only)  to try Upper Crust Enterprises Authentic Japanese Panko – FREE.
Experience firsthand the difference an Authentic Japanese Panko will have on your menu items.
We guarantee our Authentic Panko will:
Taste lighter and crispy.
Have a delicate crispy texture that stays crispy longer.
Provides a better yield than standard Panko.
Deliver a better plate presentation making coating items look bigger but not taste bready.
Upper Crust Enterprises Authentic Japanese Panko breadcrumbs are available exclusively to Professional Chefs, Restaurants (large or small) and Food Distributors.
After you receive your sample visit our Recipe Suggestions and have fun trying new recipes and discovering how such a little crumb can have such a great impact on your favorites dishes!
All of our Authentic Panko products are certified GMO Free, vegan, Kosher and Halal.