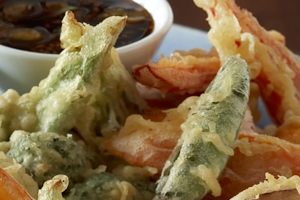 The secret to creating a extra crispy batter mix that's both versatile and vegan friendly is easy, if you start with an Authentic Tempura batter mix. With so many commercial brands of Tempura Mixes available, how do you know if the brand your using is authentic? That's easy too, if you know what to look for!
Choosing a Authentic Tempura Mix
A truly Authentic Tempura Batter mix will have a short list of ingredients: free of preservatives, MSG, thickeners, spices, flavoring and eggs. The sole purpose of the batter is to add a light, delicate crispy outer layer, enhancing the foods flavor and texture. And because an authentic tempura batter is egg free, it's a perfect choice for vegan and vegetarian dishes.
The Multi-Purpose Batter Mix
The lack of spices and flavorings is what makes an authentic tempura batter mix so versatile. Simply add water to create a superior light crispy tempura, or add beer for a light crispy beer batter or mix with any liquid to create a wide range of batters. Be as creative as you like and try wine, champagne, fruit juice, sweet drinks like Pina Colada mix or even hot sauce to create your own unique batter flavor from savory to sweet.
An authentic Tempura batter mix can also be used as a pre-batter with Panko, replacing flour and egg wash, allowing you to offer more vegan and vegetarian options on your menu.
Your Source for Authentic Tempura Batter
Upper Crust Enterprises offers an authentic Tempura batter mix made exclusively for restaurants and professional chefs, with a very simple ingredient list:
Flours
Starch
Baking Powder
Salt
Plus a secret emulsifier ingredient directly from Japan (which will remain a secret but helps the flour and starch work together to create a distinctive light crispy texture!)
We guarantee our Tempura Batter Mix will blend easily, create a lacy and crispy texture and stay crispy for an extended time.
Our tempura never contains:
Eggs
Gums
Thickeners
MSG
Flavoring/Spices
These ingredients will alter the flavor, and can also cause the batter to be soft or oily. Our tempura batter mix is flavor neutral which allows you to easily create a wide variety of unique flavor batter without affecting the crispy texture.
Upper Crust Enterprises has created an authentic Tempura Batter mix that rivals the best Japanese tempura masters back of the house blend.
Our Tempura Batter Mix and Japanese Panko Bread Crumbs are sold throughout the entire United States, Canada, Mexico, South & Central America, Barbados, Belize, Europe, Ukraine, Israel, United Arab Emirates, Guam and Saipan. All of our products are Kosher & Halal Certified, have Zero Trans Fat and backed by a 100% satisfaction guarantee. If you are not happy with the performance of our products we will refund your purchase price.
Still Not Sure? Try it for Free!
Request a free sample kit of Upper Crust Enterprises Tempura Batter Mix today.
Visit our website for more information to request a sample or menu application ideas www.UpperCrustEnt.com.