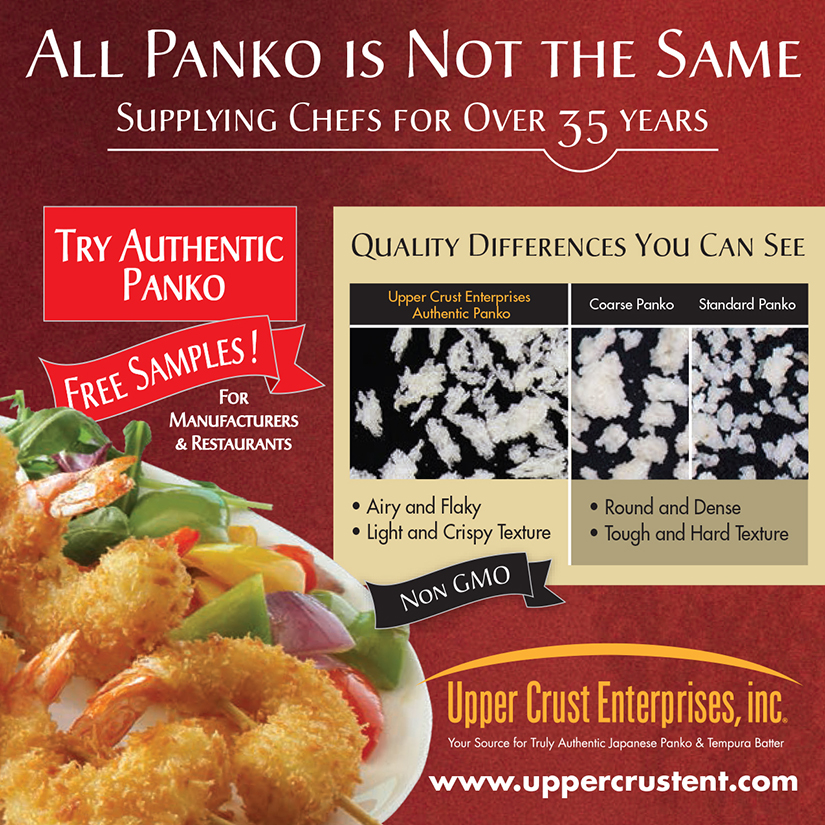 With the ever-growing consumer demands for better tasting products, cleaner ingredients and a more stringent regulatory landscape, the ability to update and adapt are a must. The necessity to boost sales and increase customer loyalty has established a real need for many companies to rethink their current product formulas to meet the consumers search for clean-label and healthier food options.
While we can't solve all the challenges, we can help by introducing you to the many benefits of using an Authentic All Natural Panko. It's a commonly overlooked staple ingredient, but one which provides an excellent value in a wide range of industrial uses. Authentic All Natural Japanese Panko is a pure and simple ingredient perfectly suited to use in a variety of products and solves a multitude of issues, including a light crispy texture for coated items, top crusting for baked items and great moisture retention as a mix in ingredient, plus it has one of the cleanest ingredient declarations on the market.
Authentic Panko Compared to Standard Panko
Many food professionals are unaware there are significant variances between standard Panko and an Authentic Panko; there are considerable differences in texture, performance, shape, and yield.
The texture of Authentic All Natural Panko is delicate, light and airy with a flaky sliver shape that is not greasy. Standard Panko has a round, hard and dense texture, making coated items taste over breaded and heavy.  Standard breadcrumbs are not crispy but heavy, oily with a long list of ingredients and allergens.
Authentic All Natural Panko One Ingredient with Multiple Uses
Authentic All Natural Panko can be used in a multitude of foods and offers a cost effective solution to many of the challenges for industrial food preparation and best of all, it meets the consumer growing desire for cleaner ingredients, which are NON-GMO, dairy free, free of preservatives, artificial flavors and dyes – completely vegan and certified Kosher and Halal.
Coating (Breaded fish, chicken and vegetables): The most popular use for Panko is as a coating for fried foods, perfect for both oven and deep-fried. The texture is much different than standard Panko because Authentic All Natural Panko will have a delicate and light airy texture that absorbs less oil. Standard Panko will be hard and dense making coated items taste over breaded and heavy.
Binding Agent or Mix-in (Meatballs, Hamburgers, Crab cakes, Ravioli stuffing, etc.): Breadcrumbs have been used forever as a binding agent but switching to authentic All-Natural Panko will make a huge difference because an Authentic All Natural Panko will:
Holds up to 3x its weight in liquid, making it ideal for meatballs, crab cakes, veggie burgers, or anything else that needs a binder.
Holds in the juices better, providing less shrink and better flavor.
Is flavor neutral, so no bready flavor, just the flavor of your protein.  This is important especially with stuffed ravioli, add a little Authentic All Natural Panko in the mix to keep the moisture and flavor locked-in, the ravioli will look and taste better.
Top Coating (top crusted fish, casseroles, desserts, etc.: The light and delicate texture of an Authentic All-Natural Panko is perfect for top coatings, adding a light crisp texture that isn't heavy or oily. From au gratins to cobblers, the texture results in a perfectly delicious light and crispy topping.
Available "All Natural" in a wide range of grind sizes to fit your needs:
00120 Extra Large grind – excellent for fried breaded products and top coating
00124 Medium grind – Great for smaller coated items like thin onion rings, calamari or as a mix in for meatballs, hamburgers and meat loaf
00130 Fine grind – the look of standard breadcrumbs but with the extra crispy texture of Authentic Panko – Excellent on Chicken Parmesan, Milanese or as a mix in for ravioli stuffing, meatballs, and coating for croquettes & fritters.
Clean ingredient declaration of UNBLEACHED WHEAT FLOUR, ORGANIC CANE SUGAR, FRESH YEAST, SEA SALT.  No hidden sub ingredients and approved by all the major health foods grocery chains. Non-GMO, Vegan, Halal and Kosher certified.
26% Better Yield with Fewer Fines
Purchased by the pound but used by the volume, an Authentic All Natural Panko will go further. The light, airy texture provides at least a 26% better yield than standard Panko.
Experience Firsthand The Benefits of an All Natural Authentic Panko
We personally invite you (Professional Chefs, Restaurants and food distributors only) to try Upper Crust Enterprises Authentic Japanese Panko – FREE.
Experience firsthand how an Authentic All Natural Panko and add value and benefit your industrial needs.
We guarantee our Authentic All Natural Panko will:
Taste lighter and crispy.
Have a delicate crispy texture that stays crispy longer.
Provides a better yield than standard Panko.
Deliver a better plate presentation making coating items look bigger, without the "bready" taste.
Upper Crust Enterprises Authentic Japanese Panko breadcrumbs are available exclusively to Professional Chefs, Restaurants (large or small) and Food Distributors.
Upper Crust Enterprises
For over 35 years, Upper Crust Enterprises has been producing Authentic Panko breadcrumbs for restaurants across the globe. Keeping to the traditional Japanese methods and taking the time to do it right in blending, baking, elongated drying process, and grinding. All of Upper Crust Enterprises authentic Japanese Panko breadcrumbs are certified GMO Free, vegan, Kosher and Halal.  The traditional Japanese methods provide a Panko that will give your menu items a light, crispy texture without an oily taste or overly hard texture.
Please take a minute and view our video Panko Bread Crumbs Secrets Revealed and watch how our traditional Japanese Panko is made.