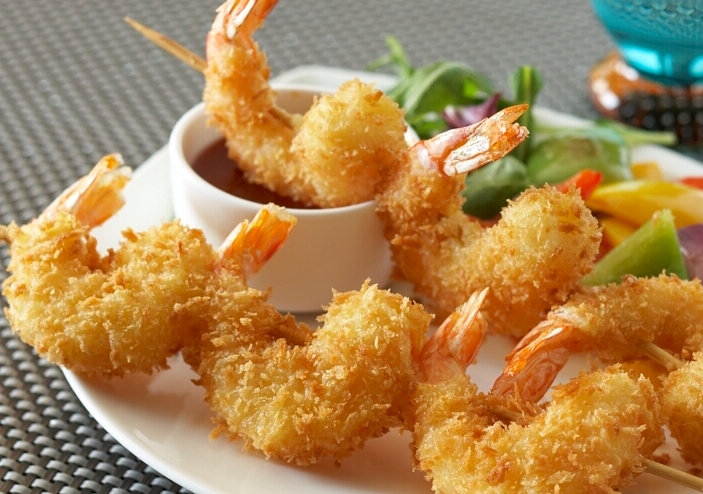 Why is Japanese Bread Crumbs all the rage? The answer can be summed up into two words – "Crispy Excitement". Japanese Panko breadcrumbs can be used in any recipe that calls for bread crumbs but will perform so much better than ordinary bread crumb. The difference is in the large, light, and airy quality of Panko breadcrumbs. Moreover, Japanese Panko absorbs less oil so it does not over power the food with a heavy coating but creates a light coating, which stays crispy longer. Simply coat the food in Upper Crust Enterprises Tempura batter, then roll in Upper Crust Enterprises Authentic Japanese Panko breadcrumbs and deep fry or bake for a taste so delicious, you will never go back to ordinary breadcrumbs again.
Japanese Panko Breadcrumbs Menu Ideas
With Upper Crust Enterprises Authentic Panko breadcrumbs, menu ideas do not have to be difficult. Experiment and you will find hundreds of uses from onion rings to breaded fish, to stuffing or as a topping for dessert. Within minutes, you will have a tasty menu entrée that will satisfy your customers and separate your restaurant from the crowd.
For menu & recipe ideas, visit our Recipe Suggestions section.
Japanese Panko: Recipe for Success
Chefs at some of the world's finest restaurants consider Upper Crust Enterprises Authentic Japanese Panko breadcrumbs their top choice when it comes to breading. Panko breadcrumbs can be easily customized by blending in seasonings and spices to give pizzazz to bland menu items. With a little creativity Upper Crust Enterprises authentic Panko breadcrumbs can be used on a wide variety of Japanese or American menu items from entrees and appetizers to desserts and salads.
For restaurant chefs in search of  custom panko blends, Upper Crust Enterprises should be your first stop. Completely customized to your specifications, we can save your staff time, money and provide you with a consistent breading or batter, which is unique only to your restaurant. We understand a chef's artistry demands innovation and exclusivity, which is why we can create a blend to fit your every need. We are large enough to make a difference but small enough to care about customer service. Contact us to find out how we can help you.