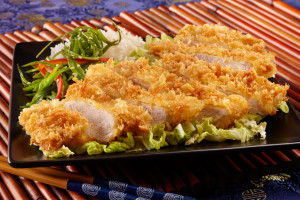 When food chain giants, like McDonalds, make huge changes in their ingredients to satisfy the demands of their customers it's note worthy. If you read the food industry articles, McDonalds is removing artificial and chemical ingredients throughout their menu.
Your customers are demanding fresh, healthy food without artificial preservatives dyes and flavors and you can help meet their demands by making  simple changes, even as simple as changing from a traditional bread crumbs to an all natural authentic Japanese panko bread crumb.
What kind of bread crumbs are you using for your recipes?
If you have the standard popular brand of bread crumbs in your pantry, read the label. You will see a long list of ingredients that include chemicals, dough conditioners, preservatives and ingredients you can't even pronounce.
Get where we're going here? Why is something as standard and simple as bread crumbs loaded with so many ingredients?
Try Authentic Panko. You will notice a difference.
If you're ready to simplify your ingredients and use a product that has no artificial ingredients, and is also certified GMO Free, consider switching out your old bread crumbs with Upper Crust Enterprises all natural, authentic Japanese Panko bread crumbs.
Our panko bread crumbs have only four, easy to understand, ingredients:
 Unbleached wheat flour
 Cane sugar
 Yeast
 Sea salt
Take the Panko Bread Crumb Challenge.
We invite all professional chefs and food distributors to try a free sample of our Authentic Japanese Panko. Replace your current bread crumbs with Upper Crust Enterprises Authentic Panko bread crumbs and win big with your customers. If you are currently using a Panko, know that all Panko is not created equal.
We guarantee our Authentic Panko bread crumbs will:
Taste lighter and crisper than standard Panko.
Will have a light sliver/flaky shape
Stay crispy longer with less oily taste.
Provide a better yield than standard Panko
Experience firsthand what an authentic Panko is and how it will affect your menu items.
Top 10 Reasons to Make the Switch to Our Panko Bread Crumbs
 Customers do care about ingredients
 No preservatives or dough conditioners
 Only Cane sugar – no dextrose or high fructose corn syrup
 No MSG or artificial flavor enhancers
 NON-GMO certified
 Trans Fat Free
 Kosher & Halal certified
 Vegan
 Made in the USA with 97% of the ingredients from local USA farms
 Traditional process -we have been making authentic Panko for over 35 years
At Upper Crust Enterprises, keeping our Panko clean, simple and GMO free is much more than a trend; it's how we've been doing it for over 35 years.