Remember to mark your calendars for National Shrimp Day! As the most popular seafood in America, May 10th is the perfect day to celebrate the deliciousness of shrimp.
Shrimp is a popular seafood choice in America for a good reason. It's versatile and can be used in any cuisine, from humble to gourmet. Grilled, battered, fried, blended into soup, or baked, using the best ingredients, deliver the best results!
Use Upper Crust Enterprises Authentic Japanese Panko to create the best shrimp dishes, no matter how you cook them. Our Panko has an excellent, long-lasting crispy texture that is ideal for frying, baking, and sautéing.
One Ingredient Offers a Wealth of Applications
Coating: The most popular use for Panko is as a coating for fried foods, perfect for both oven and deep-fried. The texture of an Authentic Panko is light, airy, and delicate, absorbs less oil, and provides a better crispy texture than standard breadcrumbs.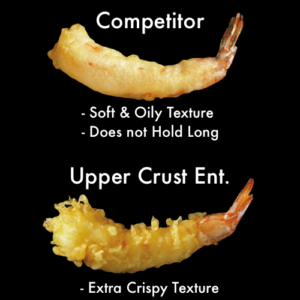 Mix-in: Panko is ideal for shrimp balls, fritters, or anything that needs a binder. Our Authentic Panko is a superior choice to breadcrumbs because of the delicate texture it adds without added flavors. An Authentic Panko is flavor neutral and will never add a bready flavor. Hence, the flavor of your protein, vegetables, and spices comes through clean.
Top Coating: The light and delicate texture of our Authentic Panko is perfect for top coatings, adding an ideal crisp that isn't heavy or oily. From shrimp au gratin or a cripsy topping for shrimp mac-n-cheese, the texture is perfectly delicious light and crispy.
Upper Crust Enterprises Authentic Panko is strong enough to hold up to a deep fryer, delicate enough to grace the top of desserts, and bold enough to add texture to any menu item, from sweet to savory.
Not All Panko is Authentic Japanese Panko
Choosing the right Panko brand is essential because not all are Authentic. It wasn't an Authentic Panko if you've ever experienced a hard, round, and dense panko.
An Authentic Panko is light and delicate with a sliver or flaky-shaped crumbs, which will enhance your menu items by adding a crispy texture without being oily, heavy, or overpowering. An Authentic Panko will highlight your coated protein with a light-crispy texture and never have a hard, crunchy texture.
Exclusively for Professional Chef and Food Distributors
We invite all professional chefs and food distributors to try a free sample of our Authentic Japanese Panko. Compare and experience the differences firsthand.
We guarantee Upper Crust Enterprises Authentic Japanese Panko will:
Taste lighter and crispy.

Have a delicate crispy texture that stays crispy longer.

Provides a better yield than standard Panko.

Deliver a better plate presentation making coating items look more prominent without a "bready" taste.
Visit our website and discover new delicious shrimp recipes.
About Upper Crust Enterprises
Upper Crust Enterprises has been making Authentic Japanese Panko for over 40 years. Our Panko is produced in the USA using USA-supplied ingredients. Most of our Panko is sold to Japanese and Asian restaurant chefs worldwide; however, because of our versatility and authentic quality, we are becoming increasingly popular in a wide range of restaurants, from Italian Bistros to many major chain restaurants.
Upper Crust Enterprises Authentic Japanese Panko breadcrumbs are also available in All Natural formula. Our Panko is certified GMO Free, vegan/vegetarian, Kosher, and Halal.
To learn more and request a sample of an Authentic Panko, Visit Upper Crust Enterprises at www.UpperCrustEnt.com