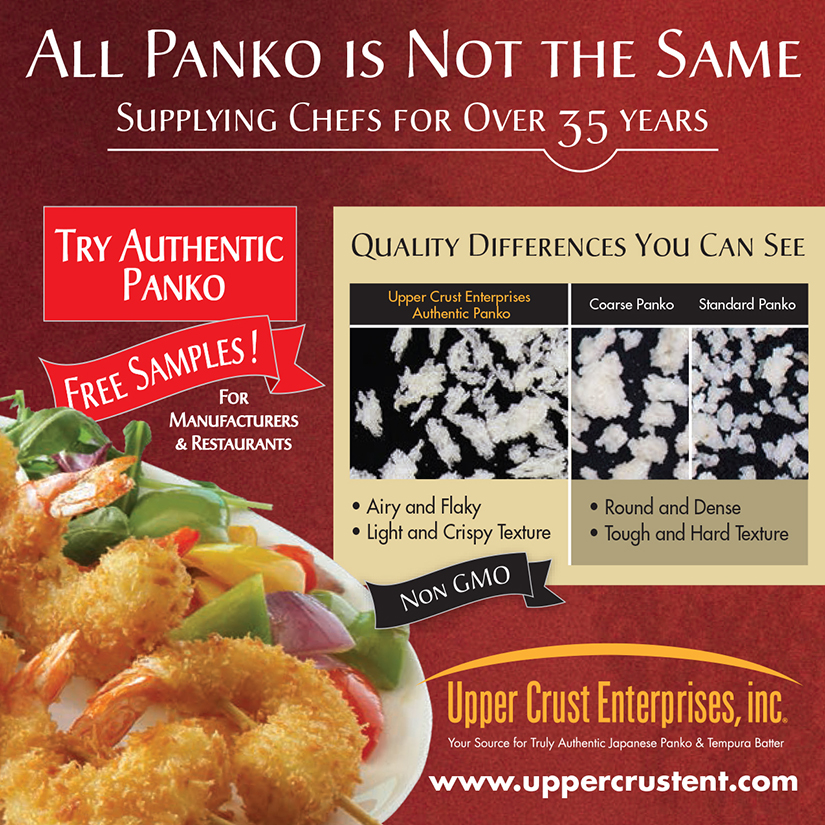 It's no wonder there's been such an upswing in the deliciously creative ways chefs are upping their game by enhancing classic dishes with new and creative textures. Adding or changing the texture of any dish is an effective way to make the ordinary, extraordinary.
Taste, Texture, Smell. Achieving the perfect balance is a culinary trifecta. Batter and breading enhances food while providing chefs an open canvas to add their own unique flavors.
Using Texture to Enhance Food
Fried, top-coated and even ingredients used as binders have one critical detail in common, each offer an opportunity for creating a unique texture and taste. Choosing the right texture is critically important – if the texture is too crunchy it makes the food taste over-breaded or worse, over-cooked. Understanding the subtle differences of a crispy texture vs a crunchy texture is key to achieving the perfect balance of taste, smell and texture. See in more details on texture in our recent post: Defining The Subtle Differences of Crispy & Crunchy for Better Food Textures.

Authentic Panko Adds a Light Delicate Texture
Authentic Panko is a perfect solution for adding a light delicate texture to almost any menu item.  Authentic Panko is always light and delicate and  can be used in countless applications, making it an ideal choice for fried, oven baked, top crusting or as a binder. From starters to desserts, An Authentic Panko is the ideal choice to add texture.
But not everyone uses Authentic Panko. Just like the difference between crispy and crunchy, there is distinctive differences between standard panko and Authentic Japanese Panko.  These differences are noticeable and measurable. Understanding the difference enables you to maximize the texture experience of your menu items and most importantly, keep your customers happy and loyal.
Authentic Panko vs Standard Panko
Authentic Japanese Panko is easy to spot if you know what to look for, it's all about texture and shape. Authentic Panko has a delicate light textured crumb which is flaky and sliver shaped. Just by touching the Panko crumbs you can feel the difference. Standard Panko will be round in shape with a hard dense texture. Why is Authentic Panko so delicate? It is all because of the air pockets in the crumb. These tiny little air pockets have two primary functions;  provide a delicate light crispy texture and when fried oil goes into the air pockets, but drains out when removed from the fryer, providing a less greasy oily taste.
It's following traditional methods when making an Authentic Panko that produces the light delicate texture and less greasy look/taste. Most standard Panko manufacturers don't use traditional quality ingredients and rush the process – completely missing the mark resulting in a round, hard dense Panko crumb.
To learn more and see how Authentic Panko is made take a virtual plant tour Panko the Secrets Revealed – it's actually a fascinating process.
Your Source for Authentic Japanese Panko
Upper Crust Enterprises has been making Authentic Panko for over 35 years. Our traditional Authentic Japanese Panko is produced in the USA with USA supplied ingredients. The majority of our Panko is sold to Japanese and Asian restaurants worldwide, however, because of our authentic quality Upper Crust Enterprises Authentic Panko is becoming increasing popular in a wide range of restaurants, from Italian Bistros to major chain restaurants.
Upper Crust Enterprises authentic Japanese Panko Breadcrumbs are available in All Natural and Authentic. All of our Panko products are certified GMO Free, vegan, Kosher and Halal.
Experience A Truly Authentic Japanese Panko – Free Sample
We personally invite you (Professional Chefs, Restaurants and food distributors) to try Upper Crust Enterprises Authentic Japanese Panko – FREE.
Experience firsthand the difference an Authentic Japanese Panko will have on your menu items.
We guarantee Upper Crust Enterprises Authentic Panko will:
Taste lighter and crispy.
Have a delicate crispy texture that stays crispy longer.
Provide a better yield than standard Panko.
Deliver a better plate presentation, making coating items look bigger without the "bready" taste.
Upper Crust Enterprises authentic Japanese Panko breadcrumbs are available exclusively to Professional Chefs, Restaurants (large or small) and Food Distributors.