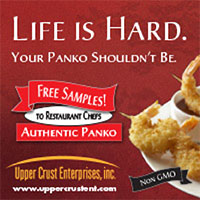 We love it when food industry giants, like Bon Appetit, shine the spotlight on Panko! Recently Bon Appetit published an article by Alex Delany, Panko Is the Best Thing to Buy at the Grocery Store.  Mr. Delany writes "Panko breadcrumbs are little, crispy, airy, Japanese miracles." This is one of the best and truly accurate ways to describe Panko – we couldn't have said it better! However,  buyer be aware NOT ALL PANKO is the same.  There is a major difference between the many brands of Panko you see on the shelf and you need to take the extra time to look for Authentic Panko.  Using authentic Panko will make a big difference in how your menu item turns out.
The article goes on to explain why you shouldn't try to make your own Panko. 'If you ever wanted to make your own Panko, you couldn't. We're not trying to insult you. It's not that you lack the skills … It's because Panko is such a pure and perfect ingredient that it can't be replicated at home." His statement is absolutely correct. Panko is pure and perfect, but only when made using traditional Japanese methods, just like we've been doing at Upper Crust Enterprises for more than 35 years.
Not all Panko is Pure, Perfect or Authentic
Upper Crust Enterprises has been producing Authentic Panko for Japanese restaurants and many other types restaurants across the globe for more than three decades. Strictly keeping to traditional Japanese methods and taking the time to do it right, each and every time, is what makes our Panko authentic. Pure and perfect. Please take a minute and view our video Panko Bread Crumbs Secrets Revealed and watch how our traditional authentic Japanese Panko is made.
Also key, is our simple and clean ingredients. Using only the traditional ingredients, Unbleached Wheat Flour, Organic cane sugar, Yeast and Sea Salt. That's it – no additives, no preservatives. Our Panko is All Natural.  All of our Panko products are certified GMO Free, Vegan, Halal and Kosher.
Traditional Japanese Panko is an Easy Upgrade for any Professional Kitchen
If your Panko is hard, round and dense you are using the wrong Panko. Only Authentic Japanese Panko will provide your menu items with a flaky light, crispy texture without the oily taste or overly hard texture.  In addition Authentic Panko is flavor neutral so it will not add a bread flavor to your menu items, making it a perfect substitute for standard breadcrumbs. It's light airy texture gives Authentic Panko the ability to absorb more moisture – making it an excellent binder and mix-in for items like meatballs, meatloaf and crab cakes. Its also a perfect coating for chicken, vegetables and as a top coating for pastas, gratins and even fruit cobblers!
Exclusively for Professional Chef and Food Distributors
Although you can't buy Upper Crust Enterprises authentic Japanese Panko at your local grocery store, if you look in the Asian section of your grocery store try to find a brand that has a window in the package and look for Panko that is sliver shaped, flaky with a light delicate texture.  Most likely it will be a Panko from a Japanese company.    For Restaurants chefs you can buy an Authentic Panko from your food distributor but don't accept just any panko. Contact us directly for a free, no hassle, no obligation sample for your restaurant or professional kitchen!
We invite all professional chefs and food distributors to try a free sample of our Authentic Japanese Panko.  Compare and learn the differences between Authentic Japanese Panko breadcrumbs and standard Panko.
Upgrade your Panko, Don't Settle
We guarantee Upper Crust Enterprises Authentic Japanese Panko will:
Taste lighter and crisper.
Stay crispy longer.
Provide a better yield & plate presentation.