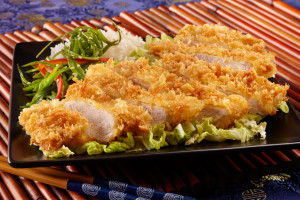 That's right, Katsu a long-time favorite comfort food in Japan is making it's way onto American Menus – Katsu is fast becoming a star. Nancy Kruse, a highly regarded menu trend analyst and President of the Kruse Company, recently published an interesting article "Katsu Crosses Over", citing the success and many applications restaurants are using elevating Katsu into the mainstream spotlight.
Authentic Japanese menu items, such as sushi, are gaining popularity,  however, not everyone likes seafood or raw fish. But, very few can resist a golden fried cutlet, which is one of the leading reasons Japanese Katsu (crispy coated pork or chicken) is gaining so much attention and finding it's way onto many menus.   Its comfort quality goodness makes Katsu perfectly positioned to attract a wide range of customers. Why the sudden popularity? According to Nancy Kruse,  "… katsu is tasty, satiating and, especially here in the United States, unlikely to be made at home." We couldn't agree more. Not only is this dish tasty, it's versatile and allows chefs to use their creative genius, building their menus while wowing their customers.
The Difference of Katsu and European-style Breaded Cutlets
The essential difference between Katsu and other European-style breaded cutlets is Katsu must be made with Panko. It is the crispy light delicate texture of Panko that makes this dish so satisfying and delicious. Knowing how to select and use authentic Japanese ingredients is important – using an authentic Panko is critical to the success when adding Katsu to your menu. Not all Panko brands are authentic and if you want the true delicate light crispy outer texture of  Japanese Katsu you need to choose the right Panko.  How do you know if your Panko is authentic?
Authentic Panko Compared to Standard Panko
If you didn't know there was a difference between standard foodservice Panko and Authentic Panko, don't feel bad, many food professionals don't. We hear all too often "Panko? It's all the same right?" Wrong. The difference between Authentic Panko and standard Panko is significant.
Authentic Panko is easy to spot. It is all about texture and shape. Authentic Panko will have a delicate light texture crumb, not hard or dense. Just touching the Panko you can feel the difference. The main reason authentic Panko is more delicate is because it has more air pockets in each crumb. Those air pockets do two things, provide a delicate crispy texture and when fried oil goes into the pockets, but drains out when removed from the fryer providing a less greasy oily taste.
It's these unique characteristics that allow an Authentic Panko to stay crisp and hold up to hot oil better and longer, without the oily or greasy taste. Authentic Panko is also flaky and sliver shaped, not round and dense. The flaky sliver shape provides more highlights and makes the coated item look bigger but will not taste over breaded.

Many standard Panko brands do not use traditional quality ingredients and rush the process – completely missing the main elements that make an Authentic Panko a superior product, thus resulting in a hard dense coating.
If your restaurant is planning on taking advantage of the Katsu trend – don't settle for a standard Panko. Throw out the hard and dense and trust only an authentic Panko for your culinary masterpieces. Light and crispy, without an "overly oily" taste. You can trust a truly authentic Japanese Panko to deliver the results your customers crave.
To learn more and see how Authentic Panko is made take a virtual plant tour Panko the Secrets Revealed – it's actually a fascinating process.
Your Source for Authentic Japanese Panko
Upper Crust Enterprises has proudly provided Authentic Panko to restaurants and professional chefs for more than 35 years. Our traditional Authentic Japanese Panko is produced in the USA with USA supplied ingredients. The majority of our Panko is sold to Japanese and Asian restaurants worldwide; however, because of our authentic quality Upper Crust Enterprises Authentic Panko has increasingly become more popular in a wide range of restaurants, from Italian Bistros to major chain restaurants.
Upper Crust Enterprises authentic Japanese Panko Breadcrumbs are available in All Natural and Authentic. All of our Panko products are certified GMO Free, vegan, Kosher and Halal.
Experience A Truly Authentic Japanese Panko – Free Sample
We personally invite you (Professional Chefs, Restaurants and food distributors) to try Upper Crust Enterprises Authentic Japanese Panko – FREE.
Experience firsthand the difference Authentic Japanese Panko will have on your menu items.
We guarantee Upper Crust Enterprises Authentic Panko will:
Taste lighter and crispy.
Have a delicate crispy texture that stays crispy longer.
Provide a better yield than standard Panko.
Deliver a better plate presentation, making coating items look bigger without the "bready" taste.
Upper Crust Enterprises authentic Japanese Panko breadcrumbs are available exclusively to Professional Chefs, Restaurants (large or small) and Food Distributors.