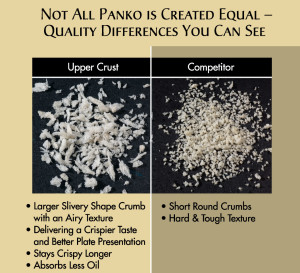 Japanese Panko bread crumbs are not just for Japanese Restaurants. They are a creative way to add incredible crispiness and excitement to ordinary foods. When you use Upper Crust Enterprises Japanese Panko bread crumbs, your customers will see and taste the difference. Panko bread crumbs are distinctly different from the typical bread crumb. Panko bread crumbs have a slivery shape crumb with an airy texture. Your recipes are never overpowered with bread crumbs but are accented with a crispy texture and flavor. Panko bread crumbs are great on chicken, onion rings, calamari, eggplant, fish & shrimp, cheese sticks, on top of desserts, as a filling in meatloaf or stuffing. The applications are limitless. Visit our Recipe Suggestions or Recipe videos for great menu application ideas.
Authentic Japanese Panko Bread Crumbs
Do not be fooled not all Panko bread crumbs are created equal. Upper Crust Enterprises Japanese Panko bread crumbs are truly the Authentic Japanese Panko bread crumb. Visit our Panko product section for more details.
Take the challenge, replace your current bread crumb with Upper Crust Enterprises Panko bread crumbs, and win big with your customers. We guarantee our Japanese Panko bread crumbs will:
• Taste lighter and crisper than competition
• Stay crispy longer than competition
• Provide a better yield than standard bread crumbs.
Japanese Bread Crumb Formula Variations to Suit any Need
To provide the perfect product for your application, we have created several Japanese Panko bread crumb sizes and formulations. All our Panko is Non-GMO, Trans fat free, Vegan, Kosher and Halal certified.
1. Code 01020 – Large size. Our most popular grind. Provides a tender & crispy bite,
2. Code 00020 – Extra Large size – very popular in American style restaurants because of its size. Also available "All Natural" made with unbleached wheat flour
3. Code 00420 – Medium size. Great as a filler or when a delicate coating is required.
4. Code 00130 – Fine Grind Panko – our smallest size and great as a mix in ot to replace standard Italian bread crumbs.
5. We also make special seasoned Panko blends, colored Panko and just about any special blend your customers and chef can think up!
Each formula is made in the time honored Japanese tradition so the right Japanese Panko grind size and formulation depends on your menu application. Contact us and our experts can recommend the perfect product for your needs.
In addition, our Japanese Panko bread crumbs are available in different bag sizes to fit your volume needs.